Artists around the River Yealm
Local Art Scene
Latest News
Newsletter
We publish a regular newsletter – please click on the link below for the latest.
Paintings for Sale
South Hams Arts Forum  2023 Art Trail to be held from 14th to 29th October.
This is an opportunity to visit artists' studios and speak to the artists and view their works.
The following members of our Society are taking part in this event and their work can be viewed on our gallery page 'Paintings for Sale'.
Pammie Hall
Theresa Henning
Naomi Hunt
Judith Mears
Maggie Nicholls
Please click here to see these paintings.
Upcoming Workshops
Saturday 23rd September 
Clare Law  – Painting Knife Workshop.
Yealmpton Community Centre – 10.00am – 4.00pm
Cost:  £25 Members       £30 Non-Members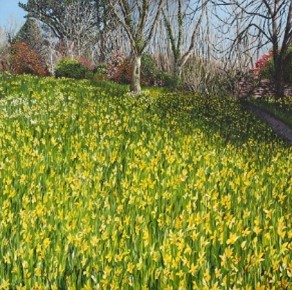 Please do look at her website, I think you might be surprised by the detail she achieves by working in a sculptured way using only a small painting knife.  www.clarelaw.co.uk
Saturday 14th October 
Rick Holmes – Landscapes in Pastel with Acrylic ink
Yealmpton Community Centre – 10.00am – 4.00pm
Cost:  £25 Members       £30 Non-Members
If you are interested in joining either of these  workshops or want further information, please use the email address: contact@yealmartsociety.com
or click on the contact form at the bottom of the page.
For details of further upcoming events click below for full programme
Review of our latest workshops.
May 13th Workshop – with Julie Dunster    En Plein Air Landscape in Oils
It was a fantastically sunny day at Delamore.  We collected around a shady tree looking towards the house with the iconic urn in the foreground.
Julie took us down the road of developing a tonal painting.  Firstly, in monochrome we learnt to recognise 5 tones.  She did a small demonstration of the view before we attempted to do the same.  This exercise was so crucial in identifying shade, shadows, and the depth of colour.
In the afternoon we applied the same principals when using colour, choosing a new vista with a very limited palette.  
Julie's tips on painting en plein air and her information on tones was so helpful. An excellent day with a good tutor who was most encouraging.  Thank you Julie.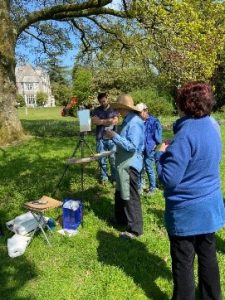 Comments left on the day… 'Fantastic day, fantastic teacher. Lovely location'.   
'Very informative structured day, enjoyed it very much!'  'Lovely day and learnt a lot about tones!'
June 3rd Workshop – with Dave Scott     Birds and Other Wildlife
The morning began with a ringing in our ears!  The fire alarm at the Community Centre was ringing as we opened the hall and proved to be a distraction to Dave and the artists for quite a long time until Terry, the caretaker, managed to turn it off!
However Dave managed to get things going with lots of information on the preparation of the boards he uses and his favourite paints and brushes. 
He used acrylic paint but stressed that he uses it in the same way as he would use water colour – very thin and diluted.  He had prepared the drawing of the head of a beautiful lion – gridding it up from an image.
Then the master started to demonstrate how he began the painting using small light strokes to build up the hair and details of the face.  Magically the beautiful image started to appear.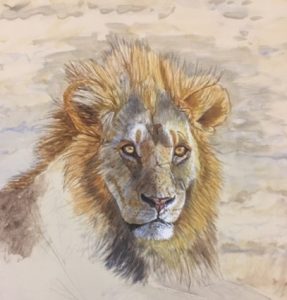 To see individual members' paintings scroll down page.
A little bit about our Society and our members…….
We are a group of enthusiastic artists who come together to take part in workshops, demonstrations and talks, as well as to exhibit and sell our works at our Annual Easter Exhibition. We also have three small groups who meet up to paint together, two groups at The Parish Room, Yealmpton and one group in The Revelstoke Room, The Village Hall, Noss Mayo.
The Society is committed to encouraging an interest in all genres of painting within the local community. We aim to include all abilities and would welcome new artists – both the young and the more mature, beginners and more experienced.
Why not become part of our Society, it's only £15 to join? For more information on joining please visit our membership page or use our contact link below.
Below are detail thumbnail photos from our latest Workshop – click on the image to see the full photo.
For more examples of members' paintings click here…
paintings
Gallery
We hope you will enjoy browsing the following groups of members' work
MEMBERS ARTWORK
This Gallery provides an opportunity for members to share their artwork with other members and the general public.
EXHIBITION SUBMITTED ARTWORK
Visitors to the site will be able to view all the artwork submitted for the annual exhibition.
New for 2023 – Paintings for Sale

We are pleased to announce for 2023 that you will now be able to view our Members' Paintings for sale on line.
Please click here to see these paintings.
Exhibitions
Our Annual Easter Exhibition for 2023 was held at The Village Hall, Noss Mayo April 8th – April 10th. With over 90 paintings and a number of browsers and art cards for sale.  It was popular event enjoyed by many local people and visitors to the area.
Regular Events
Paint together sessions
Mondays 10am - 1pm in the Parish Room, Yealmpton
Mondays 1pm - 4pm in the Parish Room, Yealmpton
Thursdays 10.00am - 1.00pm in The Revelstoke Room, Village Hall, Noss Mayo.