Local Art Scene
Latest News
Newsletter
We publish a regular newsletter – please click on the link below for the latest.
Coming Up
3rd December 2021
A Visit to The Box, Plymouth,to view latest exhibition.  Aboriginal Art – 'Songlines'

We plan to meet at 10.30am by the ticket office.  Feel free to walk around the exhibition on your own or in groups.    There is a café so those wishing to could stay for lunch.
For our full programme of events – please click the link below to discover more.
What's coming in 2022
We have an exciting programme for 2022 with our first workshop on 22nd January
Shirley Kirkcaldy – Contemporary landscape in oils and mixed media.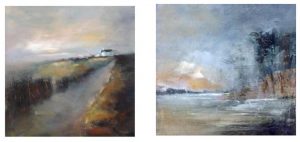 A little bit about our Society and our members…….
We are a group of enthusiastic artists who come together to take part in workshops, demonstrations and talks, as well as to exhibit and sell our works at our Annual Easter Exhibition. We also have two small groups who meet up to paint together at The Parish Room, Yealmpton.
The Society is committed to encouraging an interest in all genres of painting within the local community. We aim to include all abilities and would welcome new artists – both the young and the more mature, beginners and more experienced.
Why not become part of our Society, it's only £15 to join? For more information on joining please visit our membership page or use our contact link below.
Below are a few of the paintings produced by participants at a Michael Hill Workshop – Horses and Riders held earlier this autumn. For more examples of members' paintings please go to our gallery page.
paintings
Gallery
We hope you will enjoy browsing the following groups of members' work
MEMBERS SUBMITTED
ARTWORK
This provides an opportunity for members to share their artwork with other members and the general public.
EXHIBITION SUBMITTED ARTWORK
Visitors to the site will be able to view all the artwork submitted for the annual exhibition.
ARTISTS' LOCKDOWN CHALLENGES
This activity was introduced during lockdown to inspire members with a new challenge. It is hoped to keep members motivated and to find inspiration on subjects they may not have considered attempting before.
Exhibitions
After a two year absence due to covid we are once again able to hold our Annual Easter Exhibition in 2022. This will be held at The Village Hall, Noss Mayo April 15th – April 18th.
Regular Events
Paint together sessions
Mondays 10am - 1pm in the Parish Room, Yealmpton
Mondays 1pm - 4pm in the Parish Room, Yealmpton