Artists around the River Yealm
Local Art Scene
Latest News
Newsletter
We publish a regular newsletter – please click on the link below for the latest.
New for 2023 – Paintings for Sale

We are pleased to announce for 2023 that you will now be able to view Paintings for sale by our artists on line.
Please click here to see these paintings.
Penlee House – 'Penlee Inspired'
"Penlee Inspired' is fast becoming a popular institution and remains one of our favourite collaborative projects. We are pleased to offer another chance for local schools, children and adults to exhibit work they have produced in response to the collections and exhibitions at Penlee House, shown alongside some of the Newlyn School paintings that inspired them.'
We are pleased to announce Naomi Hulatt ,one of our members, has had a painting accepted for the Penlee Inspired Exhibition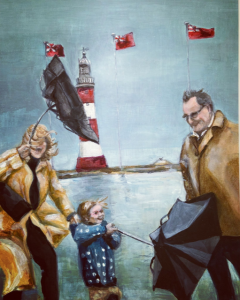 Naomi Hulatt
'My painting was inspired by "The Rain it Raineth Every Day" by Norman Garstin.
I do love the Penlee -for those who love the Newlyn Group of artists- it's a must!'
Coming Up
Our first workshop for 2023 is
Saturday January 21st – Shirley Kirkcaldy – Contemporary  Landscape – This workshop is now full
   
This workshop will introduce a range of mixed media techniques and materials using a variety of tools and mediums.
Members £25   Non-Members £30
Saturday February 4th      Michael Hill – Figure in an Interior
10am to 4pm at the Yealmpton Community Centre. Members £25  (Non Members £30)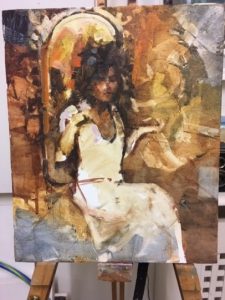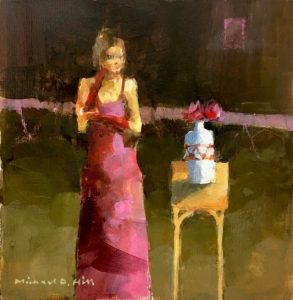 We welcome Michael back for another inspiring workshop. This time painting a whole figure in an impressionistic style.  He will paint in acrylics, but other mediums may be used.
More info on this workshop …….click here
For more information on our full 2023 programme please use link below.
Michael Hill Workshop 
Our recent Michael Hill workshop proved extremely popular and a departure from our usual landscape workshops.
Michael demonstrated a more 'naive' style of painting which is more uninhibited, with an instictive approach to materials, composition, and ideas, ignoring the rules of perspective. Michael made it look easy, but most found is quite challenging, however it was fun and enjoyed by all those who attended. Trying new things are what workshops are all about.  Scroll down page to see a few images of the work produced at the workshop.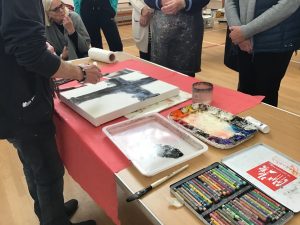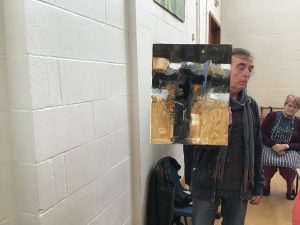 Here are just  a few comments left by our members….
"Inspirational, will go home and experiment!"


"Wonderful experience with Michael Hill. It was such fun and very inspirational!"


"A really enjoyable workshop – my first with the Yealm Art Society, and not my last"
A little bit about our Society and our members…….
We are a group of enthusiastic artists who come together to take part in workshops, demonstrations and talks, as well as to exhibit and sell our works at our Annual Easter Exhibition. We also have two small groups who meet up to paint together at The Parish Room, Yealmpton.
The Society is committed to encouraging an interest in all genres of painting within the local community. We aim to include all abilities and would welcome new artists – both the young and the more mature, beginners and more experienced.
Why not become part of our Society, it's only £15 to join? For more information on joining please visit our membership page or use our contact link below.
Below are detail thumbnail photos from our latest Workshop – click on the image to see the full photo.
For more examples of members' paintings click here…
paintings
Gallery
We hope you will enjoy browsing the following groups of members' work
MEMBERS SUBMITTED
ARTWORK
This provides an opportunity for members to share their artwork with other members and the general public.
EXHIBITION SUBMITTED ARTWORK
Visitors to the site will be able to view all the artwork submitted for the annual exhibition.
ARTISTS' LOCKDOWN CHALLENGES
This activity was introduced during lockdown to inspire members with a new challenge. It is hoped to keep members motivated and to find inspiration on subjects they may not have considered attempting before.
Exhibitions
After a two year absence due to covid we were once again able to hold our Annual Easter Exhibition in 2022. This was  held at The Village Hall, Noss Mayo April 16th – April 18th. With over 90 paintings and a number of browsers and art cards for sale.  It once again proved a popular event enjoyed by nearly 400 visitors.
Regular Events
Paint together sessions
Mondays 10am - 1pm in the Parish Room, Yealmpton
Mondays 1pm - 4pm in the Parish Room, Yealmpton
Thursdays 10.00am - 1.00pm in The Revelstoke Room, Village Hall, Noss Mayo.