Artists around the River Yealm
Local Art Scene
Latest News
Newsletter
We publish a regular newsletter – please click on the link below for the latest.
Coming Up
Our next full day workshop will be :
More info on this workshop …….click here
For more information on our full 2022 programme please use link below.
Art Sale
Pop Up Art Sale to be held on 29th October at Noss Mayo Village Hall .
Opening Hours: 10.30am – 4.00pm
Free entry
Several of our Members will be displaying their artwork for sale together with art cards and other associated items. It is an opportunity to meet the artists and purchase original works at affordable prices. Please come along and support your local artists.  Click here to see examples of our members' art.
Talk by Ray Balkwill – An Artist's View
The Society organised a presentation by Ray to start our Winter programme, which was attended by 30 people,and what a fantastic evening we had. We began with a glass of wine and some really tasty nibbles which enabled all to have a chance to meet Ray and other members
Ray took us through his painting life beginning with his use of water colour and explaining the beauty of the transparency of his results. He explained how he progressed to a more mixed media style adding in some soft pastel and his use of masking tape. Oils and acrylics followed, always with great success, as he showed us with slides. He particularly loves the Exe estuary near his home especially the wonderful shapes the mud and the residual water makes when the tide recedes. His other great loves are boats, the changing skies and of course Dartmoor.
Seeing so many of his lovely paintings was inspirational, hopefully several artists there will take away the enthusiasm and love of creating images of what they see when painting en plein air.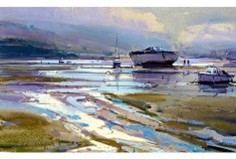 Judith mentioned in thanking Ray that we were using some of the kind gift Jean Grieve left the Society to further the knowledge and enjoyment of its members. Here is the comment made by Ray after the event 'I have also remembered who Jean was now! Such a nice lady and a really good painter. She came on a number of my courses and like me always exhibited at Dartmoor Artists in Ashburton for many years. Lovely to provide such an enjoyable evening in her name '.
Ray proved to be such an entertaining speaker and so many people thoroughly enjoyed the evening. Our thanks to him and members of the committee who helped to make the event such a success.
Anna Ventura – Sketching & Drawing Workshop
A very enjoyable and informative workshop conducted by Anna taking us back to basic drawing techniques.  Anna demonstrated on how to use graphite pencil medium along with inks.  We learnt how to work on perspective by creating a starting point using parallel and vertical lines. This enabled us to improve our observation skills. Anna also demonstrated techniques eg cross hatching using fine and thick ink pens to create light and dark shading in our work. Everyone produced some lovely artworks!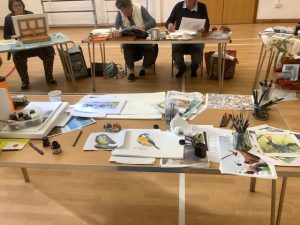 Scroll down for more photos of the day.
A little bit about our Society and our members…….
We are a group of enthusiastic artists who come together to take part in workshops, demonstrations and talks, as well as to exhibit and sell our works at our Annual Easter Exhibition. We also have two small groups who meet up to paint together at The Parish Room, Yealmpton.
The Society is committed to encouraging an interest in all genres of painting within the local community. We aim to include all abilities and would welcome new artists – both the young and the more mature, beginners and more experienced.
Why not become part of our Society, it's only £15 to join? For more information on joining please visit our membership page or use our contact link below.
Below are detail thumbnail photos from our latest Workshop with Anna Ventura – click on the image to see the full photo.
For more examples of members' paintings click here…
paintings
Gallery
We hope you will enjoy browsing the following groups of members' work
MEMBERS SUBMITTED
ARTWORK
This provides an opportunity for members to share their artwork with other members and the general public.
EXHIBITION SUBMITTED ARTWORK
Visitors to the site will be able to view all the artwork submitted for the annual exhibition.
ARTISTS' LOCKDOWN CHALLENGES
This activity was introduced during lockdown to inspire members with a new challenge. It is hoped to keep members motivated and to find inspiration on subjects they may not have considered attempting before.
Exhibitions
After a two year absence due to covid we were once again able to hold our Annual Easter Exhibition in 2022. This was  held at The Village Hall, Noss Mayo April 16th – April 18th. With over 90 paintings and a number of browsers and art cards for sale.  It once again proved a popular event enjoyed by nearly 400 visitors.
Regular Events
Paint together sessions
Mondays 10am - 1pm in the Parish Room, Yealmpton
Mondays 1pm - 4pm in the Parish Room, Yealmpton