Artists around the River Yealm
Local Art Scene
Latest News
Newsletter
We publish a regular newsletter – please click on the link below for the latest.
New for 2023 – Paintings for Sale

We are pleased to announce for 2023 that you will now be able to view Paintings for sale by our artists on line.
Please click here to see these paintings.
Exhibition and Sale of Paintings by local Artists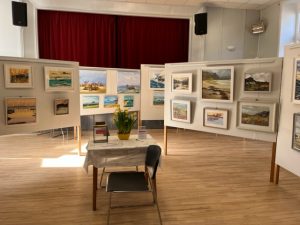 Our Annual Spring Exhibition held over the Easter Weekend was a great success. Held as usual in the Newton Ferrers and Noss Mayo Village Hall, it attracted many visitors, both local and visitors to the village, (nearly 600 over the three days).  They admired the depth of talent and diversity of the artwork on display produced by our society.
Each year the Society chooses a charity to support, this year it was the Red Cross Earthquake Appeal who will also receive a donation from sale of paintings.
The success of the Exhibition is entirely down to all our members who exhibited, a record number of paintings, unframed works and cards were sold.  Thank you to our volunteers who manned the desk. A special thanks must go to one of our artists, Chris Tullett, together with the husbands and partners of the Committee members who come along each year to help with the physical work of moving and erecting the large display boards.
We would also like to thank all the visitors to the exhibition, and a thank you from the artists to the purchasers of their artwork.
For more about 2023 Exhibition click here

We look forward to 2024 and our next exhibition when hopefully we can showcase more of our members' work.
This year for the first time we put the exhibition on line, to view the paintings which were exhibited please click here
For details of further upcoming events click below for full programme
Sally O'Neill- Workshop

Sally's workshop on Saturday 4th March was all about how colours react using dots and dabs laid next to one another.
This required a fair amount of patience and was quite challenging for those of us who are used to mixing our colours on a palette and not dotting the individual colours next to one another!
Sally was an excellent tutor and very helpful. There was a lot to learn, but it was good to try a different technique and everyone took something away from the day.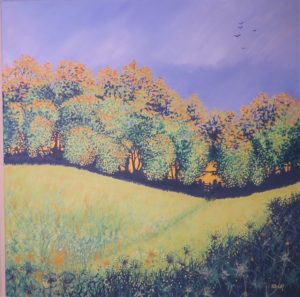 Sally's Inspiring Painting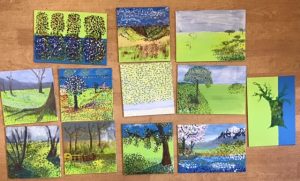 Above some of the paintings produced by members on the day.
To see individual paintings scroll down page.
A little bit about our Society and our members…….
We are a group of enthusiastic artists who come together to take part in workshops, demonstrations and talks, as well as to exhibit and sell our works at our Annual Easter Exhibition. We also have three small groups who meet up to paint together, two groups at The Parish Room, Yealmpton and one group in The Revelstoke Room, The Village Hall, Noss Mayo.
The Society is committed to encouraging an interest in all genres of painting within the local community. We aim to include all abilities and would welcome new artists – both the young and the more mature, beginners and more experienced.
Why not become part of our Society, it's only £15 to join? For more information on joining please visit our membership page or use our contact link below.
Below are detail thumbnail photos from our latest Workshop – click on the image to see the full photo.
For more examples of members' paintings click here…
paintings
Gallery
We hope you will enjoy browsing the following groups of members' work
MEMBERS ARTWORK
This Gallery provides an opportunity for members to share their artwork with other members and the general public.
EXHIBITION SUBMITTED ARTWORK
Visitors to the site will be able to view all the artwork submitted for the annual exhibition.
New for 2023 – Paintings for Sale

We are pleased to announce for 2023 that you will now be able to view our Members' Paintings for sale on line.
Please click here to see these paintings.
Exhibitions
Our Annual Easter Exhibition for 2023 was held at The Village Hall, Noss Mayo April 8th – April 10th. With over 90 paintings and a number of browsers and art cards for sale.  It was popular event enjoyed by many local people and visitors to the area.
Regular Events
Paint together sessions
Mondays 10am - 1pm in the Parish Room, Yealmpton
Mondays 1pm - 4pm in the Parish Room, Yealmpton
Thursdays 10.00am - 1.00pm in The Revelstoke Room, Village Hall, Noss Mayo.