Newsletter
Latest News Items
View/download the latest pdf version of the newsletter here.

      March Newsletter
Dear Members
Sally O'Neill – Playing with Pointillism
Sally's workshop on Saturday 4th March was all about how colours react using dots and dabs laid next to one another. This required a fair amount of patience and was quite challenging for those of us who are used to mixing our colours on a palette and not dotting the individual colours next to one another!
Sally was an excellent tutor and very helpful. There was a lot to learn, but it was good to try a different technique.
I'm sure everyone took something away from the day.  Here are photos showing some of our efforts…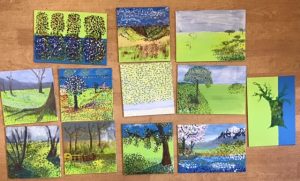 Sally will be taking part in the Delamore Arts 23, with a workshop.

Our Annual Exhibition takes place over Easter Weekend – 8th  to 10th April 2023
You will have received an email from Lin Forrester with full details and how to enter your artwork but here are some important dates to remember.
Important dates:
Friday 17th March                 Deadline for submission of entries.
Monday 20th March              Deadline for submission of images for website (if required)
Friday 7th April                     Drop Off artwork                   4.30pm to 5.30pm
Monday 10th April                Collection of artworks          4.30pm to 5.30pm     
Coming soon
Andre Daniel (The Moth Man) is in the process of setting up a framing business in his studio at Yealmbridge.  Parking is easy and Andre assures me his prices will be very competitive.
He has promised me a flyer with all the details which I will include in the next newsletter.
That's all for now,
Don't forget to submit your entry forms for the exhibition.
All members are encouraged to enter – we have no selection process, but please ensure framed artwork is properly strung ready for hanging.
Follow the instructions on the 'Conditions & Entry Rules' sheet which can be found on our website.
Note. We do not charge commission on card sales as was stated on the 'Conditions and Rules' Sheet.  This has since been corrected.
Sue Denny
YAS Secretary
Regular Events
Paint together sessions
Mondays 10am - 1pm in the Parish Room, Yealmpton
Mondays 1pm - 4pm in the Parish Room, Yealmpton
Thursdays 10.00am - 1.00pm in The Revelstoke Room, Village Hall, Noss Mayo.