Newsletter
Latest News Items
View/download the latest pdf version of the newsletter here.
Dear Members,
With summer upon us, we have no further workshops until
23rd September when Clare Law will run a Painting Knife Workshop.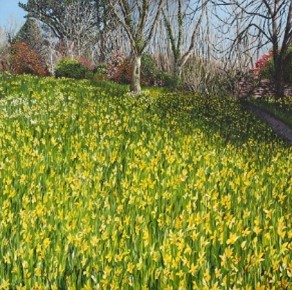 Please do look at her website, I think you might be surprised by the detail she achieves by working in a sculptured way using only a small painting knife.  www.clarelaw.co.uk
Further details closer to the time.
If the weather is warm and settled the committee may arrange impromptu 'plein air' sessions during the break. Details will be sent by email.
In the meantime, please see below for reports on the workshops held in May and June, kindly written by Judith as I was away and sadly missed both workshops.
May 13th Workshop – with Julie Dunster               En Plein Air Landscape in Oils
It was a fantastically sunny day at Delamore.  We collected around a shady tree looking towards the house with the iconic urn in the foreground.
Julie took us down the road of developing a tonal painting.  Firstly, in monochrome we learnt to recognise 5 tones.  She did a small demonstration of the view before we attempted to do the same.  This exercise was so crucial in identifying shade, shadows, and the depth of colour.
In the afternoon we applied the same principals when using colour, choosing a new vista with a very limited palette.
Julie's tips on painting en plein air and her information on tones was so helpful. An excellent day with a good tutor who was most encouraging.  Thank you Julie.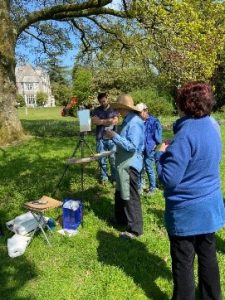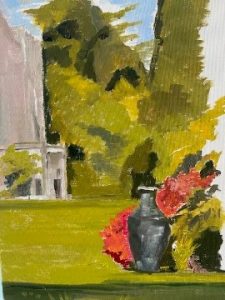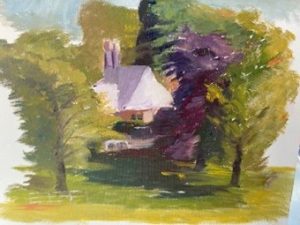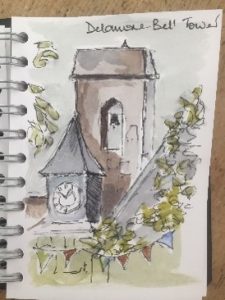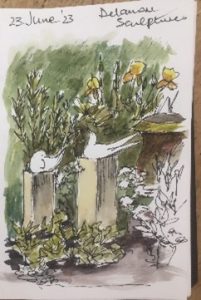 Comments left on the day… 'Fantastic day, fantastic teacher. Lovely location'.   
'Very informative structured day, enjoyed it very much!'  'Lovely day and learnt a lot about tones!'

June 3rd Workshop – with Dave Scott             Birds and Other Wildlife
The morning began with a ringing in our ears!  The fire alarm at the Community Centre was ringing as we opened the hall and proved to be a distraction to Dave and the artists for quite a long time until Terry, the caretaker, managed to turn it off!
However Dave managed to get things going with lots of information on the preparation of the boards he uses and his favourite paints and brushes.
He used acrylic paint but stressed that he uses it in the same way as he would use water colour – very thin and diluted.  He had prepared the drawing of the head of a beautiful lion – gridding it up from an image.
Then the master started to demonstrate how he began the painting using small light strokes to build up the hair and details of the face.  Magically the beautiful image started to appear.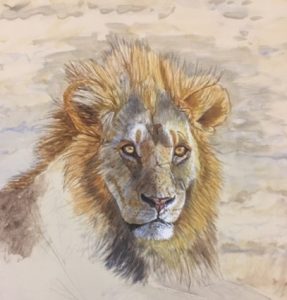 The artists then began their own paintings some using images Dave provided of his photographs in card form.  It is always interesting to see other techniques and to have the opportunity to attempt to attain some success.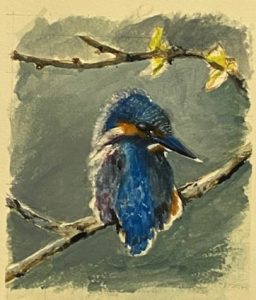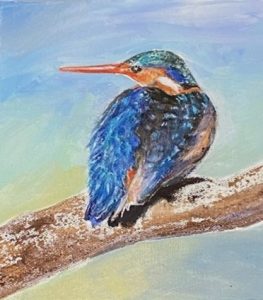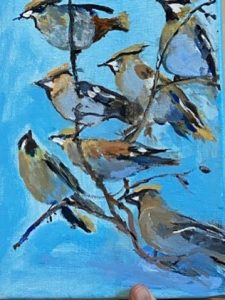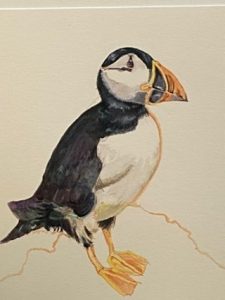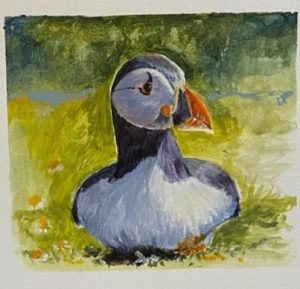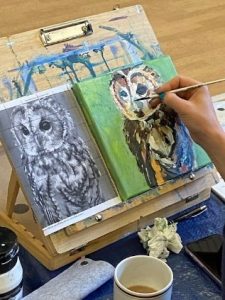 I must mention how interesting and knowledgeable Dave is on all wildlife and how he managed to impart his love of everything he does whether it is bird ringing, safari guiding, tending to damaged wildlife, or interpreting what he sees into works of art.
Have a fantastic summer, see you in the Autumn if not before…
Sue Denny
YAS Secretary
Regular Events
Paint together sessions
Mondays 10am - 1pm in the Parish Room, Yealmpton
Mondays 1pm - 4pm in the Parish Room, Yealmpton
Thursdays 10.00am - 1.00pm in The Revelstoke Room, Village Hall, Noss Mayo.